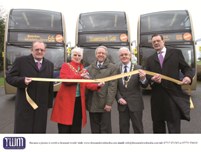 Stagecoach West's Route 66 between Swindon and Oxford has benefitted from an upgrade to Gold standard.
The firm has invested almost £1.5m in seven brand new high-specification Scania ADL E400s, which include E Leatherupholstered Lazzarini Transito, high-back leather seats and free WiFi on board.
Nathan Griffith-Williams, marketing manager of Stagecoach West said: "We enhanced Route 66 back in May 2010 by increasing the daytime frequency to every 30 minutes and adding extra journeys in the evenings and on Sundays. Since then we have seen patronage grow by over 40%.
Ian Manning, MD of Stagecoach West, added: "When we introduced identical vehicles on our Cheltenham to Gloucester route, we attracted over 90,000 extra passengers in the first year, then an additional 50,000 passengers on top of that in the second year. I have every confidence we will achieve similar or better results on Route 66."
To celebrate the launch, Stagecoach West is running a Month of Sundays ticket promotion, which also started on Sunday (January 22). It will allow passengers to try the new luxury service for £1 single fares on any Sunday service operated by Stagecoach in Swindon and will run until February 26.
The operator has also invested over £1.5m in new vehicles for route 55, which links Swindon with Chippenham via Royal Wootton Bassett and Calne. These buses will be launched on Friday (January 27).