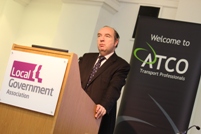 New era for light rail promised under localism agenda
Local authority transpoirt professionals gathered at London's Local Government Association House last Tuesday (November 20) for the Association of Transport Coordinating Officers (ATCO)'s Winter Conference.
The Keynote Address was given by Norman Baker. Starting on a lighter note, he said: "As a Transport Minister, I'm now in the unique position of being able to open things I've given funding for."
He continued: "I hope at a time of devolved government, it will lead to a new era for light rail. The brakes have been taken off and it's up to you to take forward those schemes. The mindset of grounding you down has been taken away.
"Local Transport Board geography is currently being drawn up. Disputes on boundaries have arisen in one or two areas but that's something for me to sort out. It's right for us to return to local decision making."
Asked about the revitalisation of urban road building, Baker replied: "Don't believe everything you read in the press. Mind the gap between what you read and fact."
There followed the morning panel discussion, which was described as the bus industry's question time. Chaired by David Blainey, Integrated Transport Operations Manager Merseytravel, this comprised Les Burton, Operations Director at Stagecoach Merseyside, Tracy Jessop of Norfolk Council and Gillian Merro, Chairman of Bus Users UK and CBW Editor Gareth Evans.
Presentations included Conwy Council's Bob Saxby on sustainable transport and the tourist economy; The DfT's Anthony Ferguson on policy; Herfordshire University's Scott Copsey on using LTSF; Roger Wilson-Hind about an Android app for the visually impaired; and Leeds University's Professor Peter Mackie on whether better buses deliver economic growth.
The afternoon panel discussed how to improve school transport and comprised Denbighshire's Peter Daniels, West Berkshire's Steve Doel and Ian Gwelan of West Sussex.
Commenting on the event, David Blainey, who was elected the new Chairman ATCO at the AGM, told CBW: "Once again ATCO was able to bring together a blend of high quality speakers from a variety of areas to discuss national policy, current issues and best practice. It was a valuable learning experience. We now look forward to our Summer Conference which will be held in Liverpool from June 11 – 13."
ATCO's popular outgoing Chair Tracy Jessop added: "Taking time away from the day-to-day to discuss issues and talk through challenges with different people is an important part of learning and improving. ATCO events try to get the right balance between sharing good practice, stimulating debate and getting conversations going from across the industry."