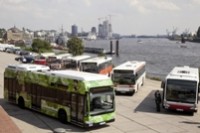 Daimler's bus of the future is up and running in Hamburg – ultra-quiet and with zero emissions. Hamburger Hochbahn AG has acquired four Mercedes-Benz Citaro FuelCELL Hybrids under the German "NaBuZ demo" scheme to promote sustainable bus systems for the future.
Three more buses are to follow next year. Hartmut Schick, head of Daimler Buses, handed over the first two buses of this new generation to Günter Elste, CEO of Hamburger Hochbahn AG, in the presence of Olaf Scholz, First Mayor of the Free and Hanseatic City of Hamburg, and Rainer Bomba, undersecretary at the German ministry of transport.  Hartmut Schick said at the handover ceremony: "With the new FuelCELL Hybrid vehicles, Hamburg is once again assuming a pioneering role. This transport company has already made a name for itself and acquired good experience with its trials inEuropeof fuel cell buses from the previous generation. Passengers and drivers were also delighted with the new technology".
Citaro FuelCELL Hybrid
The new generation Citaro FuelCELL Hybrid features a number of key innovations in comparison to the fuel cell buses which went into trial operation in Hamburg in 2003: hybridisation with energy recovery and storage in lithium-ion batteries, powerful electric motors in the wheel hubs offering a continuous output of 120 kW, electrified auxiliary units and more advanced fuel cells. The latter are designed for an extended service life of at least six years or 12,000 operating hours. The fuel cell stacks of the new Citaro FuelCELL Hybrid are identical to those of the Mercedes-Benz B-Class FCELL with fuel cell drive, which is also being put to the test by customers in Hamburg.
As on the earlier fuel cell buses, the two stacks are already installed on the vehicle's roof. They are now accompanied by the lithium-ion batteries which store energy recovered during braking. With the electric power from this energy accumulator, the new Citaro FuelCELL Hybrid is able to run for several kilometres on battery power alone. The concept behind the new FuelCELL bus essentially corresponds to Mercedes-Benz BlueTec Hybrid buses which are in service in Hamburg. A key difference is that the latter derive their electric power from a diesel generator, while in the new FuelCELL buses the fuel cells generate the electricity for the drive motors, without producing any emissions at all.
The improved fuel cell components and the hybridisation with lithium-ion batteries result in a reduction of almost 50% in hydrogen consumption for the new Citaro FuelCELL Hybrid in comparison to the previous generation. As a result, it has been possible to reduce the number of tanks from the total of nine on board the fuel cell buses deployed in earlier trials in Hamburg to seven on the current vehicles, holding 35 kg of hydrogen in all. The fuel cell bus has a range of around 250 kilometres. The drive system with the fuel cells is virtually maintenance-free and has a very long service life. Daimler claims these diverse technical advances bring buses running on electric power alone with fuel cells as energy generators a major step closer.
Günter Elste, CEO of Hamburger Hochbahn AG observed: "According to all the forecasts, 20 to 25 years from now mineral oil and, in turn, diesel will be in short supply and too expensive to be a viable fuel for buses. From the coming decade on, HOCHBAHN aims to purchase only electrically driven zero-emission buses. Commissioning this new generation of buses represents an important step on the road to electric mobility."
Hartmut Schick, head of Daimler Buses, noted: "Hamburger Hochbahn AG displays a great commitment to sustainability in all areas, from the generation of energy to its sustainable use. We at Daimler Buses have similarly defined sustainability as a leading corporate objective."
The NaBuZ demo project
Demonstration of the Citaro FuelCELL Hybrid buses as part of the "NaBuZ demo" project is to take place on HOCHBAHN's regular services. The project is integrated into the Clean Energy Partnership (CEP).
The NaBuZ project receives funding through the federal transport ministry's National Innovation Programme (NIP). NIP is co-ordinated by NOW GmbH. There will also be close co-operation with the European CHIC project, in which 26 fuel cell buses are being run in five European cities.
Daimler Buses' involvement in the NaBuZ demo project and the CHIC project follows on from the European Union's successful CUTE and HyFLEET:CUTE projects which were staged from 2003 to 2009 – where 36 Mercedes-Benz Citaros fitted with second-generation fuel cell drives put in an excellent showing in operation with twelve transport companies on three continents. Mercedes-Benz buses demonstrated the practical viability of the environmentally friendly fuel cell drive over more than 140,000 operating hours covering more than 2.2 million kilometres.