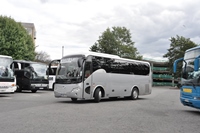 Hino Travel Group of Nottingham has acquired Bakers Travel of Biddulph, Stoke-on-Trent.
The group specialises in services for Chinese students, scholars and business travellers in the UK. It said that it has already started to implement growth strategies at Bakers, and has named Debbie Windle as Public Relations Officer.
The company is also starting to search for additional coach drivers, with wages set to increased from January 2016.
Director of Bakers Travel Ltd, Rachel George, said: "These are very exciting times for us at Bakers.
"Bakers is synonymous with quality coaches, quality service and quality values. We look forward to trading positively under the new ownership."
Owner of Hino Travel Ltd, Justin He, said: "With our continual growth of dealing with both incoming Chinese tourists as well as more recently developing student tour trips, it made commercial sense for us to acquire a coach company.
"The majority of Bakers' fleet is nearly-new King Longs. This November registration rise was an added advantage as our clients and I are in no doubt as to which Chinese manufacturer offers the best quality and reliable coach.
"We hope to organically grow Bakers and to increase the existing fleet from 16 to 30 executive coaches."