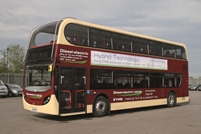 Growth is result of strong partnership working, says Stagecoach
Partnerhsip working is being credited for Stagecoach East Midlands and East Yorkshire Motor Services (EYMS) seening combined passenger growth of 30% on their services in Hull since 2002-03. This equates to one of the biggest rises in public transport use in the UK over the past nine years.
Figures released as CBW went to press show a total of 26.2 million passenger journeys were made on Stagecoach and EYMS services in Hull in the 2010-11 financial year – up from 20.3million in 2002- 03 – meaning 5.9 million extra passengers travelling on buses in Hull each year.
Almost 500,000 bus journeys are now taken on Stagecoach and EYMS services in Hull every week, up from just over 390,000 in 2002- 03. The growth is twice the rate achieved on buses in Great Britain as a whole over the same period.
Statistics show:
The extra bus passengers on Stagecoach and East Yorkshire Motor Services equates to cutting a total of 3.68million car journeys from Hull's roads over the past nine years.
The car journeys saved would have produced more than 1220 tonnes of CO2 for every mile traveled; powering a home for a year produces around 5 tonnes of CO2.
Stagecoach said the rise in passengers can be attributed to a strong partnership between the group, EYMS and unitary authority Hull City Council as well as "investment in the bus network and good value fares".
"In addition, a package of pro-bus measures by Hull City Council, have been central to Hull getting on board the bus," said the group.
The bus operators' initiatives to stimulate bus growth include:
Introducing a simpler, easyto- understand bus network;
 Investment in modern lowfloor vehicles;
Value-for-money fares, with the introduction of the EYMS 10% discount card as well as unlimited weekly travel from just £9 on Stagecoach buses;
More frequent buses – for example, services every 10mins on nine key Stagecoach routes in the city; and
Weekend night bus services for workers, as well as people accessing leisure opportunities or heading into town for a night out.
Stagecoach Group CEO Sir Brian Souter said: "In Hull, we have a winning package of attractive and easy-to-use bus networks, longterm investment, good value fares, and effective transport policies from the local authority. With the same initiatives and political will, the prospects for buses across the UK could be really exciting."
Peter Shipp, Chairman of EYMS, added: "We have increased frequencies on some routes and invested heavily in new easy-access buses so almost all buses on our routes in Hull and its suburbs are modern, lowfloor and wheelchairaccessible. The ten hybrid buses bought this year and our other fuel-saving initiatives have helped us make a real contribution to improving air quality in Hull. This passenger growth has been very encouraging and will go some way towards helping us offset the big cost increases and cuts in grant which we are all facing."
Pro-bus measures introduced by Hull City Council include:
Bus lanes on all major corridors and bus-only sections within the city centre;
Introduction of a park and ride site on the western approach to the city;
High-quality transport interchange opened in 2007;
Progressive city centre parking policy focused on low-cost charges for short stay and high-cost long stay prices; and
Good passenger information, including real time information covering most major bus stops within Hull.
Graham Hall, Hull City Council's assistant head of service, transport and asset management, said: "The growth in passengers experienced in recent years proves when bus companies and local councils work together they can deliver real results and a credible transport