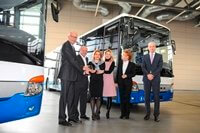 Latest delivery of interurban buses is part of an order for 140 vehicles
CZECH REPUBLIC ICOM transport a.s. has taken delivery of 15 low-entry Setra MultiClass S415LE interurban buses, part of an order of 140 vehicles in total. They are the first products the Czech-based group has ordered from the Ulm-based brand.
Ulrich Bastert, Head of Marketing, Sales and After Sales at Daimler Buses, was clearly proud of the close and successful partnership when the vehicles were formally handed over at the Setra Customer Centre. "It's the first time that we've been able to deliver this number of the new low-entry buses," he said. "This major order affirms our close partnership with the ICOM company."
Zdenek Kratchovil, General Manager of ICOM transport a.s. said: "I greatly value the cooperation with Daimler Buses, which stretches back as far as 1996. Without trust, professionalism and quality of work, we would not be where we are today. Our group provides transport on regular-service and interurban routes in nine regions of the Czech Republic. I'm pleased to be able to offer our passengers comfortable journeys in the sophisticated S415LE business buses."
Barrier-free and maintenance-friendly
Daimler says that the S415LE is an efficient low-entry interurban bus that combines economic efficiency and functionality in an unprecedented manner. The economical two-axle vehicle offers the ideal combination of barrier-free access at the front with a low-maintenance raised-floor area in the rear.
Drive comes from a Mercedes-Benz OM 936 Euro 6 six-cylinder in-line engine with an output of 299hp combined with a Mercedes-Benz GO 190-6 manual transmission. Fuel consumption is cut by up to 5% over the Euro V engines used in predecessor models.
ICOM was founded in 1996 and is described as being one of the largest and most modern transport companies in Central Europe. Its partnership with Stuttgart-based Daimler AG now stretches back almost 20 years. The focus of the company is on national and international trucking as well as interurban bus transport. 1,800 people are employed and the fleet numbers 800 buses and coaches plus 300 trucks. The company headquartered in Jihlava provides a range of bus services, which covers local public transport as well as regular-service routes, city-centre services and interurban transport, including long-distance routes and international connections.