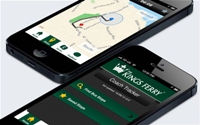 National Express-owned The Kings Ferry has introduced an improved iPhone and iPad app for commuters to track their coach It builds on 'CoachTrac', introduced in 2010.
Its main functionality is the same but with added features, notably the ability to adapt the timetable to changes. The previous version was useless at times such as Christmas, where the timetable changes significantly.
Danny Elford, Commercial Director, said: "It's an on-going development. Ultimately we want to offer a whole host of features which link our Commuter update service and Twitter to the app and provide a more personal experience. The first and most important part of the project is to make sure it works through times of change and disruption. Future versions of the app will continue to add more great features."
Other new features include: n Saved stops are displayed in am/ pm tabs and shows the relevant one according to the time of day. n Facility to view fares and purchase information. n Contact and feedback information. n Support for iPhone 5.
Eventually the original app will be turned off so users must download the new app to make sure they have a working version.
Compatibility for other devices such as Android is in progress but the firm's improved online tracker works on any smartphone with browser access. Its new filter system offers more viewing possibilities when selecting a coach.
The firm is currently offering free travel for up to two months if they swap their rail season ticket for an annual travel pass.