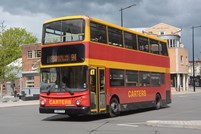 Ipswich Buses is finalising a deal with Carter's Coach Services of Capel S Mary to take over most of its bus routes, staff and most modern vehicles.
Carter's currently operate around half a dozen Dennis Tridents as well as four Leyland and Volvo Olympians, a Volvo B10M Caetano Enigma coach and a MCV Evolution-bodied VDL SB180 bought new in 2010. Its heritage fleet, a Routemaster, Bristol FS6G and two Bristol VRTs including an open-topper will remain with proprietor Viv Carter.
Routes operated are the 91 (Ipswich – Hadleigh); 92 (Ipswich – Manningtree); X93, 93, 93C, 94, 94A and 94C (Ipswich – Colchester) and 94A (Hadleigh – Ipswich – Colchester). Three services serving East Bergholt High School will also be included in the deal, but a fourth, the 193 serving the same school won't be taken over by Ipswich Buses.
The plan is that the Carter operation will be concentrated at Ipswich Buses' Constantine Road depot once the acquisition is completed.