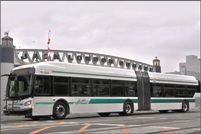 Contract contains firm order for 196 trolleybuses with options for up to 514
Canada New Flyer Industries has been awarded a contract to supply up to 530 Xcelsior heavy duty electric trolley transit buses to King County Metro Transit of Seattle. The order covers 710 Equivalent Units (EUs) in both 40' and 60' configurations.
The contract contains a firm order for 196 EUs and options for up to 514 EUs. A quantity of 240 options for 40' Xcelsior electrictrolley buses and 93 options for 60' Xcelsior electric-trolley buses are intended to be exercised by the San Francisco Municipal Transportation Agency (MUNI) who were actively involved in the procurement. The electric-trolley buses will be based upon New Flyer's Xcelsior platform and utilise overhead lines to power the propulsion equipment supplied by Vossloh Kiepe.
The vehicles will operate in both urban and suburban public transport networks, utilising active regenerative braking off-wire on battery power which can cover distances of up to five miles. King County Executive Dow Constantine said: "Electric trolleys have a lot of fans, and I'm one of them. They're quiet, they run clean, they're part of our transit heritage and studies confirm they're the best for moving riders in our very hilly and dense urban environment."
Paul Soubry, New Flyer's President and CEO, said: "We're privileged to be awarded this contract by Metro Transit including the opportunity to deliver buses to MUNI. New Flyer brought to the competition our highly successful next generation Xcelsior bus and over 30 years of experience with electric-trolley buses."
Metro Transit operates a fleet of nearly 1,500 buses in Seattle and each year carries an estimated 115 million riders. New Flyer has built nearly 1,000 buses for Metro Transit since 1999. These new trolley buses mark the first time New Flyer has built electric-trolley buses for Metro Transit.
The notice to proceed has been received and the 710 EUs will now be added to the New Flyer total backlog. The 40' pilot bus is scheduled for delivery in May 2014 with production deliveries to commence in December 2014. The 60' pilot bus is scheduled for delivery in October 2014 with production deliveries to commence in June 2015.