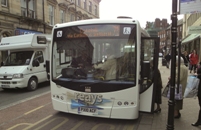 Reays is offering newspapers and free drinks to waiting passengers in Carlisle.
The Wigton firm launched its Carlisle City Hopper network in 2010 in competition with Stagecoach.
The rivalry has seen reductions in some fares and the launch of new routes.
Now Reays is offering waiting passengers complimentary tea and coffee at its travel centre in Devonshire Street, open on Mondays to Saturdays from 0900 to 1700hrs. They can also read a newspaper, take shelter from bad weather and use the toilets.
Many of Reays services stop outside including the 63 to Belle Vue, 63A, 64 and 64H to Morton Park, 64, 64A, 64H and 70 to Asda, and the 75 to Cotehill.
The move follows criticism of the lack of facilities at Carlisle bus station, which is run by Stagecoach.
Conservative city councillor Judy Prest has tabled a motion for debate tomorrow, calling on Stagecoach to provide "seating, toilets and shelter for passengers' use".
Chris Reay, managing director of Reays, said: "It can be unpleasant waiting for your bus in the cold and in the dark, especially at this time of year.
"So we are glad to offer passengers a nice warm welcome at our travel centre in Devonshire Street, along with a free cup of tea or coffee and a newspaper to read while they wait."
Stagecoach Cumbria and North Lancashire managing director Nigel Winter said no-one from the council had contacted him about the station prior to the motion being lodged, adding that he would be happy to discuss the matter with Mrs Prest.
Reays, which was named 'top independent operator' at the UK Bus Awards in London in November, said its City Hopper buses now carry almost 20,000 passengers a week.