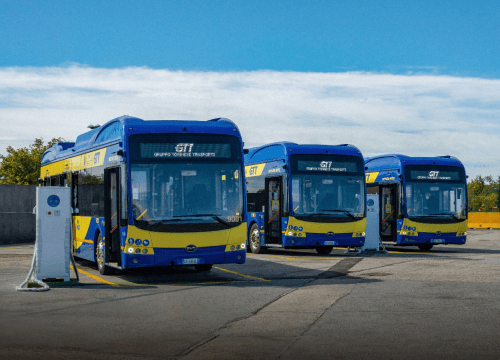 BYD has secured one of its largest orders for e-buses in Italy and the largest e-bus order in Turin with confirmation of a further 50 of its 12-metre low-floor eBuses for operator GTT (Gruppo Torinese Trasporti) in the northern Italian city.
An agreement is also in place for the supply of an additional 50 buses after the initial deliveries are completed and in operation.
BYD first supplied its eBuses to the city in 2017, and the latest order represents GTT's third intake from the manufacturer, taking its total to 78 BYD vehicles. The latest fleet will feature three-door bodywork and the phased delivery of the remaining vehicles is scheduled for September.
The first four buses were officially handed over on Monday 16 May at GTT's Gerbido depot, with Mayor of Turin, Chiara Appendino, CEO of GTT, Giovanni Foti, and Councilor for Transport, Maria Lapietra in attendance. The new additions to the fleet will enter service initially on routes 58 and 71 in the city. Over 60 BYD electric buses are currently in operation throughout Italy, including the cities of Turin, Novara, Alessandria, Milan, Padua and Messina, and have combined to deliver over seven million electric kilometres to date, an estimated saving of more than 7,000-tonnes of CO2 emissions compared to diesel-powered vehicles.
BYD said that the majority of the vehicles will be built in the EU at BYD's production facility in Komárom in neighbouring Hungary. "Since the beginning of our electoral mandate, we have considered it essential to renew the GTT fleet," said the Mayor of Turin, Chiara Appendino, "and we have managed to lower the average age of three years. There are more than 200 new buses already in service around the city and today, finally, the latest electric buses from BYD are arriving. In addition, 70 new trams are under construction. We'll see them on our streets from the beginning of 2022, and purchases of other vehicles are underway."
CEO of GTT, Giovanni Foti added: "We really are very proud. These e-buses are at the forefront of vehicle technology, delivering greater levels of safety for drivers and passengers."
BYD Europe Managing Director Isbrand Ho said: "Again, a strong partnership with our customer and a shared ambition to build a sustainable public transport model has seen the BYD brand expand its presence. Most importantly, e-mobility is delivering a progressively clean environment for the people of Turin. Our eBuses are safe, quiet and extremely comfortable, offering an increasingly attractive option for local journeys in the city."