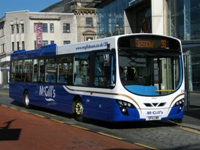 McGill's, Scotland's largest privately-owned bus company, has announced it has agreed a deal to acquire Dumbarton-based Loch Lomond Bus Services Limited which trades as McColl's, for an investment of around £3m.
The acquisition is due to complete in early December and involves McGill's purchasing the limited entity, buses and Dumbarton depot of Loch Lomond Buses Services Limited. All existing McColl's staff, numbering 35, will be offered continued employment with McGill's.
Speaking on behalf of the Board, Ralph Roberts, Managing Director of McGill's, said: "We are delighted to have concluded this deal with McColl's. The acquisition fits well with our growth targets and expansion plans for McGill's. From December 10th, McGill's will operate all existing McColl's services under the McGill's name.
"The extension of our network to include Alexandria, Balloch, Helensburgh and Clydebank complements our current service provision in West Dunbartonshire. From December 10, McGill's will offer passengers – old and new – access to an extended network on modern, clean, 100% super-low floor buses."
He continued: "The McColl's family has operated a quality service in Dunbartonshire for many years, and the company has a welldeserved reputation as one of the local area's best bus companies. We wish Liam every success for the future."
Liam McColl commented: "Given the current economic climate, we have decided to focus our efforts on the quality coach hire and school contracts side of our business. We believe the McGill's business model will serve our local passengers well. I would like to thank our regular customers for their loyalty over the years."
This latest acquisition, the first for McGill's since its purchase of Arriva Scotland West in March of this year, is a clear indication that the ambitious management team has put the recent Competition Commission review to firmly to the back of its mind, and is back on track towards its goal of becoming the foremost independent operator in the Scottish bus market.