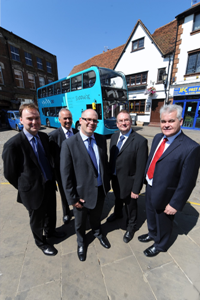 Arriva has launched the latest bus service to be upgraded to its premium Sapphire standard – route 280, which links Oxford Railway Station with Aylesbury.
The service, which links Haddenham, Thame and Wheatley, runs every 20 minutes, seven days a week. An 11-strong fleet of ADL E400s has benefited from a refurbishment programme, which has seen an investment of just under £400k.
The new hi-spec buses were unveiled at Kingsbury Square in Aylesbury town centre on July 19, and entered service two days later.
Arriva staff were on hand to talk the public about the additional benefits of the improved fleet, including the high back, E-leathercovered seats, additional leg room, free WiFi and power points, audiovisual facilities and CCTV.
Paul Adcock, Arriva's Area MD, said: "Route 280 is a real gateway service as it opens up the opportunity to travel more widely across Buckinghamshire and Oxfordshire. We're delighted to be bringing the Sapphire brand to such a pivotal service as it will certainly offer our passengers something different and we hope it will tempt more people to try the bus as a result.
"The investment we have made into Sapphire is significant at a time when there are plenty of economic challenges out there, although we firmly believe in continuing to try and improve our service offering whenever and wherever we can.
"We certainly hope the upgraded route is a success and we'll be working with our customers to gauge their feedback throughout the coming weeks and months."
Visitors and guests attending the event were also treated to music from a string trio, a children's entertainer offering face painting and balloon art, free ice-creams and 'glittering' cupcakes to add sparkle to their lunchtime.
For more information, visit www.arrivasapphire.co.uk