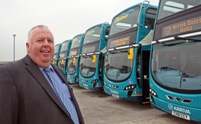 Luxury E-Leather seating fitted to the iconic North Wales route
Arriva Buses Wales has introduced a fleet of brand new buses to North Wales, following a £2m investment.
The new fleet of 10 ADL Wrightbus Gemini DLs will serve passengers who travel between Rhyl and Chester on the number 11 service. The vehicles are all fitted with low floors for easy access and Wi-Fi.
The new 'Cymru Coastliners' were unveiled during a special launch on February 9, at the Marine Lake in Rhyl. The event was attended by the minister for local government, communities and transport,Carl Sargeant, and town mayor for Rhyl, councillor Win Mullen-James.
Carl Sargeant, who was on-hand to cut the ribbon, said: "This new fleet of buses is welcome news for the area and will further improve one of the most strategically important bus routes in North Wales.
"Passengers will be able to travel in more comfort as all of the new vehicles are equipped with coachstyle seats, which are also made locally in Wrexham.
"The Cymru Coastliners will set the trend for improved bus services, and we welcome the investment being made by Arriva." Michael Morton, Arriva Buses Wales MD, said: "This is a significant investment to a vital part of our network and underlines Arriva's commitment to providing a high quality service to our customers. As well as benefiting communities in Rhyl, Prestatyn and Flint, these marvellous new buses will also enhance the journey of thousands of holidaymakers, who flock to the North Wales Coast every year."
Following a successful year-long trial on Arriva's 'Cross Rivers' route, linking Birkenhead with Liverpool city centre, E-Leather was chosen to provide the seating for the vehicles.
The Cymru Coastliners, along with an additional 17 double deckers on Arriva Yorkshires route 110 (CBW1023), have been fitted with Esteban V3 E-Leather upholstered seats to provide individual styling with an easy cleanable, low maintenance finish.
Richard Hoare, general manager at Arriva North West in Birkenhead, said: "Despite the original concern of vandalism to the seats, we are seeing the opposite, with the seats appearing to be more respected.
"Our passengers are taking the time to thank us for providing what they see as a brighter, cleaner and fresher interior which reflects Arriva's commitment to providing the best environment possible during their journey.
"Maintenance and cleaning is noticeably reduced compared to the moquette which the E-Leather has replaced and it provides a surface that is both hygienic and durable and has not been subject to any damage whatsoever."
In addition to the introduction of E-Leather passenger seating, Arriva have confirmed the use of the material as standard fitment to all of its driver seats.