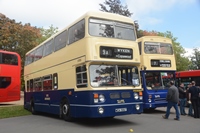 Date is set for September 25 as event moves to famous race circuit
National bus and coach event Showbus is to move to the East Midlands for 2016 – at Donnington Park. The date for the popular gathering has also been confirmed as Sunday, September 25.
In a statement, organisers said: "The venue is not the race track itself but an adjacent purpose-built site owned by the park and immediately to its west. The site boasts over 4,000 square metres of tarmac and separate entrances for cars and exhibitors which should overcome the shortcomings of the nonetheless beautiful setting of last year's Woburn Abbey display.
"Coach operators will be able to combine a visit to Showbus with the nearby shopping centres and attractions of Nottingham, Leicester or Derby. Building on the success of last year's new format brochure a similar publication, with more pages will be available for 2016. Feature articles will include travels by Megabus and the story of Crusader Holidays. All entrants will receive a free limited edition version, but for those buying the standard edition it will have a lucky number linked to some exclusive prizes.
"Showbus is an event that has, and always will be, run for enthusiasts by enthusiasts. We aim to stage an event that is unrivalled and hope that the new venue will offer our visitors value for money, as well as a new range of displays and attractions. We always like to hear from visitors to Showbus, and entrants too, and we would welcome suggestions as to what attractions you would like to see at the 2016 event."
Entry prices will be announced shortly, but organisers said they will be 'substantially less' than Duxford. Separate charges apply for visiting the Grand Prix collection. Car parking is expected to be free.
Donnington Park is conveniently located for access to the north and south via the M1, the West Midlands via the A42 and north west via the A50.
More info at: https://showbus.com/subind1/hilites2016.htm.