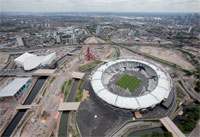 With just eight months to go before the Olympic Games, UK businesses are being told to get their act together to make the most of the "open goal" on offer. The London Chamber of Commerce and Industry (LCCI) told firms to be ready for the challenges, as well as the opportunities, involved.
The warning comes as new research shows half of UK small and medium enterprises expect no disruption from the Games.
Some 55% of London's SMEs believe the Games will not impact on them at all.
Nearly three-quarters of those businesses surveyed thought London 2012 would not impact on sales.
Only 14% were concerned about transport issues, and less than one in 10 were worried about staff availability, according to the research carried out for Deloitte.
Dr Helen Hill, policy director at the LCCI, the capital's largest business organisation, said firms needed to capitalise on the number of visitors flocking to London.
"The Games should be an open goal for London, providing us with the chance to cement our reputation as the best city in the world," she said.
Some 11 million spectators are expected at the Olympics and Paralympics and, with many events taking place in the capital, three million additional journeys are anticipated on the busiest day.
The influx of tourists, athletes, officials, sponsors and international media offers a massive potential source of business: research earlier this summer suggested the UK would benefit from a £750m consumer spending boost in the seven-week period.
But the surge in traffic and the logistics restrictions of the Olympic Route Network – a system designed to get athletes, officials, VIPs, sponsors and media to events on time – meant businesses need to plan ahead, said Dr Hill.
"The Olympic Route Network will have a direct impact on some businesses and they must get to grips with the plans to ensure they can get their staff to work and their deliveries and services to their premises," she said.
Larger companies will need to consider how well prepared the smaller businesses they rely on for supplies are."
Small businesses have raised concerns about the impact of traffic restrictions on access, parking and overnight deliveries.
London 2012 organisers said they have consulted small businesses throughout the planning process, offering information and workshops on how to make the most out of the Games.
Simon Chadwick, professor of Business Marketing and Sport at Coventry University, said the Olympics could significantly increase SME revenues, adding that with people spending more during an anticipated mood of optimism, the business community should be looking forward to London 2012.