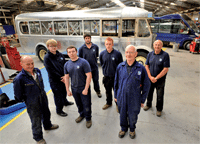 After a painstaking two-year restoration project, Scarborough based Bluebird Vehicles' 1929 Leyland Tiger TS2 is close to completion, in time for its appearance at the London Lord Mayor's Show.
The Tiger was built by Ransomes of Ipswich before being converted to run on producer gas during the Second World War. After the war, it ran the tourist route from Hull to Whitby until its commercial life ended in 1948. Beyond this point, the Tiger took on a number of imaginative uses, including as a small dwelling.
The heavyweight half-cab Tiger is being restored to its former glory, after ending its previous life as an allotment shed near the Yorkshire coast. In conjunction with Welcome to Yorkshire, Bluebird's design and development manager John Randerson, retired coachbuilder Bernard Moment and a team of four apprentices are to return the bus to the road, complete with its original East Yorkshire Motor Services livery, in time for the show in November.
Bluebird managing director Rob Miller, said: "The team have all worked hard to bring this rare vehicle back to life and we're delighted she will be going from the scrapheap to star billing in such a prestigious show."
Welcome to Yorkshire chief executive Guy Verity was pleased with Bluebird's efforts, saying "this is a fantastic opportunity to applaud the work the team at Bluebird has carried out in preserving a piece of our county's tourism history. The Leyland Tiger will be a proud Yorkshire entry into the London Lord Mayor's Show."
The Lord Mayor's Show is the world's oldest civic procession, first being held in 1535, and today attracts a viewing audience of more than three million people on television. The restored Tiger will be able to be seen by half a million people lining the route of the show, as it completes its first working journey in 60 years.
Visit the website https://www.s175030809.websitehome.co.uk/index.html