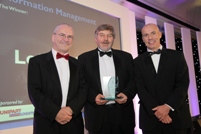 Lothian Buses has scooped up the winning entry in the Information Management category of the 2011 Annual Awards for Excellence from The Chartered Institute of Logistics and Transport in the UK (CILT).
The awards were held at a gala dinner held at the London Marriott Hotel, Grosvenor Square last week (October 20).
CILT acknowledged that Lothian Buses – which beat a shortlist including Palletforce and Shutl – has introduced 'Bus Tracker' giving accurate and reliable real-time passenger information for services across the City of Edinburgh. Bus stops and all 600 buses have been equipped with visual displays. Route progress and stop alerts are translated automatically into announcements with the combination of visual and audio information reaching a very high proportion of customers.
The judges recognised the enormous value of the scheme in improving access, personal security and schedule reliability.
The award was one of fifteen presentations made at the event including the FirstGroup-sponsored award for Passenger Transport, which was won by Transport for London's cycle hire scheme. Rachel Beeken, general manager of logistics firm Gist Limited won Young Manager of the Year.
The CILT Annual Awards for Excellence are designed to promote and encourage best practice within logistics and transport. CILT said the quality of entries was particularly high this year – reflecting a growing commitment to excellence and customer care in logistics and passenger transport.
"Widely acclaimed by the press and business community, the Awards are a celebration of the pioneering spirit that forges growth and leadership in the industry," said CILT. "Whether your organisation is an international giant or a small company, CILT(UK) believes exceptional performances should be highlighted and applauded.
"The importance of winning an award cannot be underestimated. In these uncertain economic times, organisations need to maximise their appeal and boost their profile – what better way than being nominated as a finalist in the Institute's awards."