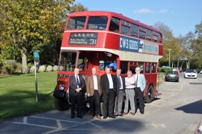 Omnibus Society North West & Yorkshire celebrate 75 glorious years
The North West & Yorkshire branch of the Omnibus Society marked its 75th anniversary on Saturday (22 October) with a special event at Bramhope, north of Leeds. It featured what may be the largest gathering of former presidents of the Omnibus Society ever, with no fewer than six present. Five of the six were members of the branch and each gave a brief presentation.
Geoffrey Steel, who was particularly associated with Wallace Arnold but whose career also included Yelloway Motor Services, reminisced about his life in coaches and other things, including being brought up in a brewery and bringing driver scheduling skills to bear in a volunteer role at the RSPCA.
Peter Shipp of EYMS, president in 1996, also recalled a long and varied career in the bus industry, starting with Devon General and culminating as chairman and sole shareholder of EYMS Group. He warned that the bus industry was now facing its greatest perils ever, with a combination of threats to tendered services, concessionary fares reimbursement, BSOG, EU regulations and general Government interference, not least the huge amount of work which has been involved in engaging in the recent Competition Commission investigation.
Stephen Morris, president in 1999 and now OS Chairman and general manager of Bus Users UK, reminisced about buses in the north-west and Yorkshire in the 1960s and compared today's bus industry in London with the rest of Britain, warning that political control of bus services could bring greater instability than a commercial regime. Peter Bell, former managing director of Preston Bus, president in 2002 recalled the benefits and pitfalls of running an employee buyout, revealing that the share ownership structure, in which employees were repaid their shareholding only on leaving the company and new employees were offered shares at the current rate, often many times what existing employees had paid, was ultimately unsustainable.
Finally Giles Fearnley, md of First's UK Bus operations, president in 2007, also reflected on a long career in the bus industry, starting at Sheffield Transport where concessionary fare reimbursement had consisted of the council paying over a cheque for an agreed sum once a year, in contrast to the highly complex and unsatisfactory arrangements applying today, and agreed with Peter Shipp over the threats to today's industry and the enormous amount of time and paperwork invested in a Competition Commission enquiry which had not really found anything fundamentally wrong with the present regime.
The sixth ex-president there was well-known author and Bus Users UK's senior officer for Scotland Gavin Booth, president in 2008, who is not a member of the North West & Yorkshire branch but was there as a guest. Transport from central Leeds to the event was a fine 1938 Bristol K5G from Keighley-West Yorkshire, which was rebodied with a new lowbridge body by Roe in 1950 and is now owned by Giles Fearnley and his former colleague from Blazefield days, Stuart Wilde.
Visit the Omnibus Society's website at www.omnibussoc.org