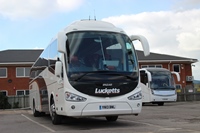 Lucketts Travel Group has been honoured for its innovative use of technology. The coach firm has been named by the British Chambers of Commerce as the winner of the regional award for Best Use of Technology to Improve Business Performance, which is a new category in the Chamber Awards 2014.
The firm will now represent the southern region in the Chamber Awards 2014 national finals, both in its category and for the chance to be named national Business of the Year.
Lucketts Travel Group comprises three companies: Lucketts Travel, based at the group's headquarters in Fareham, Coliseum Coaches, which is based in Southampton, and Worthing Coaches, which is based in the West Sussex town.
Ian Luckett, Director of Lucketts Travel Group, said: "It is a huge honour to have received the regional award and to be selected to go forward and represent our area in the national final.
"We use technology to ensure we give our customers an efficient service, as well as to reduce our impact on the environment as much as possible. It is also being used to help our employees access company information as easily as possible, no matter which of our three bases they work from.
"Winning the national award would be a huge honour not just for the group, but for all the staff whose hard work for our Lucketts, Coliseum and Worthing businesses make them as successful and as popular as they are."
The technology used by Lucketts includes a tracking system on all its coaches which not only feeds back the route the vehicle has taken, but also reports on how the vehicle is driven.
The company also uses cloud IT technology to help employees communicate and collaborate more efficiently, and an online human resources system that lets employees easily access policy documents as well as book and review their leave.
New technology has also been introduced in the engineering department, with vehicle records and maintenance schedules being stored digitally rather than in paper form.
Nora Senior, president of the British Chambers of Commerce, said: "As the UK economy continues to go from strength to strength, it is great to meet so many inspirational businesses in our network that are tirelessly driving the growth agenda. Their determination and creativity, and the positive impact they are having on their local communities never fails to impress me.
"These businesses are hungry for growth, constantly seeking new opportunities in local and global economies, creating new products for market, and sharing best practice with their peers. These businesses play a crucial role in creating a balanced and prosperous economy, and one that is admired on the global stage.
"The Chamber Awards, now in its eleventh year, is the perfect platform to showcase and celebrate the amazing work of UK firms across the country."