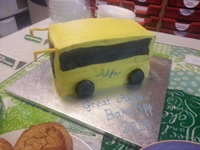 On September 26, operators across the country raised money for Macmillan Cancer Support by taking part in World's Biggest Coffee Morning, Macmillan's biggest fundraising event. Last year the event raised £10m, enough to fund 200 of the charity's nurses and support 27,000 people, and their families, affected by cancer.
Alfa Travel
Alfa Travel and its sister company Leisureplex have together raised over £6,100 for Macmillan Cancer Support.
The coach holiday tour operator started a 634 mile challenge on September 22 with staff walking, running and cycling the distance between the Croit Anna Hotel in Fort William and the Cottage Hotel in St. Ives. Over the course of the week staff counted their miles at the gym, whilst walking their dogs, and during lunchtime strolls, beating their goal of 634 miles and achieving 683 miles.
On September 26 the staff took part in the World's Biggest Coffee Morning, a national Macmillan event, with a Great Alfa Bake Off which was judged by Paul Sawbridge, Managing Director, and Mary Clarkson, Ticketing Officer. The pair tasted a variety of cakes, from a Victoria sponge in a bucket and spade to an almond cake themed around the castle views from the George IV hotel in Criccieth. The winner was a lemon cake shaped like an Alfa coach baked by Lucy Jackson, Product Co-ordinator.
Currently the group have raised over £6,100, although that amount is still growing as donations continue to flood in.
Alfa and Leisureplex would like to thank all the clients that supported them and helped make the events a success.
Donate at: https://www.justgiving.com/alfaleisureplex/
Or donate by texting ALFA48 and an amount of £1, £2, £3, £4, £5 or £10 to 70070
First Berkshire
Staff at First Berkshire raised a total of £486 during the coffee morning event.
The photograph shows volunteer staff providing refreshments at Bracknell Bus Depot, using their open-top Routemaster as a mobile canteen. They then moved to Bracknell Bus Station where customers were encouraged to donate (and eat cakes of course!)
Maynes of Buckie
Maynes of Buckie raised £215 by organising a coffee and cake morning at its Mayne office.
Visitors met some of the team had a hot drink and also had the opportunity to view coaches and discuss travel plans for late 2014 and beyond.
The Mayne coffee and cake event was held on Friday, September 26 from 1000 to 1130hrs.
Helen Mayne said: "We are thrilled to take part in our first World's Biggest Coffee Morning. MacMillan is a fantastic cause and everyone was really excited about hosting the event.
"It was great to see lots people coming along to support us in raising as much money as possible for the charity."