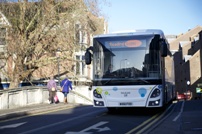 "MAN really does seem to have cracked it," says James Freeman, CEO of Reading Buses
Reading Transport has said its CNG-powered MAN EcoCity demonstrator is a "perfectly feasible" option on its urbanintensive Reading Buses operation, four weeks into a five-week trial.
"Does it work? So far, yes it does," said James Freeman, CEO of Reading Transport. "The gas bus goes out every morning, and we don't see or hear of it until it returns 12 hours later – and that's exactly how it should be. MAN really does seem to have cracked it with MAN EcoCity."
Reading Transport has a 25-year history of trialling new engine technology, not all of it successfully, but, indications suggest MAN EcoCity is a viable system for a fleet acquisition.
"Emissions are very low indeed," continued Freeman, "and that's in tune with the philosophy of our local authority owners, Reading Borough Council. We're due to replace our single-deck fleet in 2013, and the EcoCity proposition appears to be perfectly feasible.
"We've tried everything," added Freeman, "ethanol, LPG, electrichybrid, even cooking oil. The difference with MAN EcoCity, is that gas bus technology has come of age. It's a proven power system."
The MAN EcoCity has been exclusively designed and constructed for the UK market and is also being trialled with other high-profile bus operators over the coming months. With operating cost savings of some 30% envisaged, and the ability to run on the UK's fast-building supplies of Bio-gas – thus reducing emissions to zero – a full demonstration programme is building rapidly with fleets up and down the country.
A key part of the success of the gas bus programme's development to date has been MAN's partnership with the Gas Bus Alliance. The Alliance is a specialist organisation which can set up the hitherto 'difficult' gas infrastructure required for successful operation of the vehicles, offering operators a free initial set-up with the costs simply built in to ongoing gas prices. With these prices so much lower than conventional fossil fuels, the savings in operation can still be considerable.