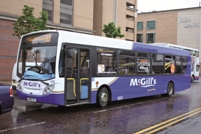 Ralph Roberts, MD of McGill's Buses has said 99% of routes will be retained in the takeover of Arriva Scotland West.
McGill's announced in mid- December it had agreed terms with Arriva for the purchase, however the Office of Fair Trading (OFT) were asked to investigate the acquisition after Labour MP Jim Sheridan wrote outlining concerns (CBW1018) over "rising fares and diminished services" and impacts on employees' terms and conditions.
McGill's has received the OFT's request for further information and completed a standard questionnaire.
"McGill's remains confident of a positive outcome following our submission to the OFT," said Roberts. "It is now imperative the team here at McGill's turns its full attention to ensuring we meet the information needs of our passengers.
"I can confirm, based on the registrations currently being finalised for submission to the Office of the Traffic Commissioner, 99% of all routes will be retained by McGill's. I'm also pleased to advise there will be no change to the start and finishing times across our services."
Roberts said McGill's will use every possible communication tool enable passengers to plan their journey with them, including regular notices across both fleets ahead of the March 26 when the takeover is due to take place. A dedicated page on McGill's website will also go live on January 23 to provide frequent updates. Regular Twitter feeds and McGill's Facebook page will update passengers.
McGill's has also offered the use of its Travel Zone information bus to all local councillors for their surgeries, supplemented by a number of Travel Information Days in key shopping areas across the area, and a series of information adverts in the local press.
Roberts concluded: "From March 26, passengers can enjoy affordable travel across an extended network on a fleet which will be almost entirely low floor. A range of day, weekly and four weekly tickets will be on offer to meet the needs of our enlarged customer base."