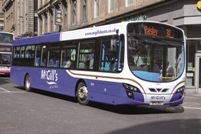 McGill's Buses has agreed to take over Arriva Scotland West next year, doubling its fleet and staff size, in a deal thought to be worth £10m.
The Greenock-based company will also take over Arriva's depots in Johnstone and Inchinnan and 165 buses, increasing its fleet to more than 350 vehicles and a transfer of 380 staff to McGill's will increase its workforce to more than 700.
The deal is expected to be completed in late February or early March.
"Upon completion, the transaction will give McGill's operational efficiencies and development of our business, both in Renfrewshire and further afield," said Ralph Roberts, McGill's managing director.
"The senior team at McGill's will work closely with Arriva Scotland West management to ensure as seamless a transfer for staff and ultimately, for passengers, as possible. Further announcements will follow."
Nigel Featham, Arriva's regional managing director, said: "The team at Arriva Scotland West are a real part of their local community and have strived over the past 18 months to put the business on a stronger commercial footing in the face of increasing costs and the wider economic impact of the recession. Their professionalism and customer focus has been commendable. There was, however, limited opportunity to grow this relatively isolated part of Arriva's UK bus business and the offer received represents good value for Arriva."
McGill's has been expanding in Arriva's Renfrewshire territory for several years, acquiring smaller operators and starting high-profile routes such as the X23 from Erskine to Glasgow and the 38 from Paisley to Glasgow.