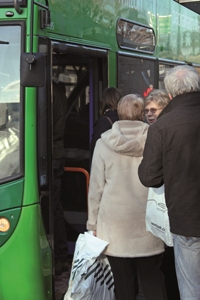 There was a slight decrease in bus passenger journeys in England between July and September compared to the year before – although patronage is still positive – while figures increased slightly in both Scotland and Wales.
According to the Department for Transport's latest quarterly bus statistics out last week, the number of journeys in England decreased by 0.6% during the third quarter of 2011, although growth was positive – at 3.1% in metropolitan areas, 3% in non-metropolitan areas and 1.9% in London. Wales saw an increase during the same period of 0.5% and Scotland by 0.3%.
1,145m journeys took place in England during the Q3 of 2011 (256m in metropolitan areas, 316m in non-metropolitan areas and 573m in London), compared to 110m in Scotland and 29m in Wales.
Comparing the last two quarters, between Q2 (April to June) and Q3 (July to September) 2011, there was an increase in bus passenger journeys of 0.6% in England (1.9% in metropolitan areas and 0.9% in London, with a fall of 1.0% in non-metropolitan areas). Over the same period there was an increase of 0.4% in passenger journeys in Scotland, and a decrease of 0.5% in Wales.
The annual PSV survey of 1600 bus and coach operators is used to produce final annual figures, along with statistics on other aspects of local bus operations.
To view the table of results in full, visit www.dft.gov.uk/statistics/tables/bus0106