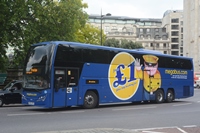 Large number of new appointments made after a 50% growth in passenger numbers in Europe
Stagecoach Group announced that it has strengthened the management team at its megabus.com business with a number of new appointments as the brand continues its expansion in the UK and mainland Europe.
The bus operator now has a fleet of more than 130 coaches covering over 100 destinations in the UK, France, Belgium, the Netherlands, Luxembourg, Germany and Spain.
The number of passengers using megabus.com's growing coach network in Europe increased more than 50% between 2012-13 and 2013-14. The company also announced last month that it was creating 20 jobs with the establishment of a base near Brussels.
A new management structure has been put in place from October 7 to facilitate the continuing expansion of the brand and includes the following appointments:
• Edward Hodgson Managing Director, megabus.com UK and Europe. In addition to this role, he will also continue to be Managing Director of Scottish Citylink Coaches, which also delivers services under the megabus.com brand. Stagecoach is currently recruiting for his other previous role of Managing Director, Stagecoach West Scotland.
• Elizabeth Esnouf, Development Director, megabus.com UK and Europe. She has played a major role in the development of megabus.com services in the UK and Europe over the past two years as well as having experience of contracts for major events including leading Stagecoach's involvement at the 2012 Olympics. She will also continue to work on special events.
• Clive Jones, Commercial Director, megabus.com UK and Europe. Clive has been the key influence on the design of the megabus.com network in the UK and Europe since 2005.
• Joanne Howe, Operations Director, megabus.com Europe. Joanne joined the Stagecoach Graduate Scheme in 2006 and has had operational management experience in Stagecoach South, Stagecoach Yorkshire, Stagecoach West Scotland and Stagecoach London.
• Craig Woodall, General Manager Belgium, megabus.com Europe. He has held operational management roles in Stagecoach Midlands following completion of the internal staff development programme.
• Peter Hoornveg, Consultant, European Markets. He has 40 years' experience of operating express coach services and other travel businesses in the Benelux countries and Germany.
• Tony Simmons, Operations Director, megabus.com UK, formerly Operations Manager Northampton at Stagecoach Midlands. In addition to being responsible for delivery of the UK megabus.com network, Tony is also currently overseeing the service delivery at the newly opened Brussels depot.
In addition to the above appointments, Stagecoach is currently recruiting an Engineering Director for megabus.com UK and Europe.
Robert Montgomery, Managing Director buses and coaches UK and Europe, said: "There are a number of exciting opportunities ahead for further expansion to our network in Europe. The new, strengthened management team has extensive operational and commercial experience. It will ensure we have the right resources in place to maximise the huge potential for the megabus.com brand moving forward."
In addition to the megabus.com appointments, Stagecoach has announced that David Frenz, Stagecoach Manchester Operations Manager at Hyde Road, has been appointed Operations Director, Scottish Citylink Coaches. He replaces previous Operations Director David Beaton, who has taken up a post with Coach USA.