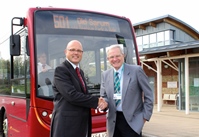 Eight new buses are taking to the region's roads, following an investment from Go-Ahead owned Salisbury Reds to provide Park & Ride services in the city.
The bus operator has been working closely with Wiltshire Council to safeguard Park & Ride provisions in the area, after previous provider Hatts Coaches, ceased trading.
"Our team has been doing a tremendous job, since taking over many of the city's Park & Ride services," said Salisbury Reds Managing Director, Andrew Wickham.
"The excellent relationship we have with Wiltshire Council meant a smooth transition – protecting this important facility for those wishing to travel in and out of the city centre.
"This investment in eight new buses underlines our commitment to providing top class services for the long term here in Salisbury."
Salisbury Reds operates the 501, 502 and 504 Park & Ride services – running into the city centre from Beehive, Wilton and London Road respectively.
The new buses were launched at the Beehive Park & Ride site by Horace Prickett, Portfolio Holder for public transport at Wiltshire Council and Salisbury Reds Managing Director, Andrew Wickham.
"Wiltshire Council has a very good working partnership with Salisbury Reds and I am delighted to be able to take a further step along this path," said Horace Prickett of Wiltshire Council.
"The fact that they pulled out all the stops to ensure there was no break in the service when the previous operator ceased trading is testament to this partnership and its strength and resilience.
"It is probable that the only thing the users of the Park & Ride service noticed at the time of the changeover was the colour of the buses!  Now, thanks to the large investment that the company has made, they also have new buses and an improved service."