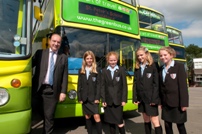 Birmingham-based school transport operator expands to Guildford following on from its Reading operations
On Tuesday, September 4, starting year seven students at St Peter's Catholic School, Guildford, became the school's first students to use its new The Green Bus service.
The firm has 10 vehicles available for the network, which are refurbished Dennis Tridents, providing eight services with two buses kept as spares when required.
Transport Minister Norman Baker officially launched The Green Bus at St Peter's services. He said: "For young people in particular, buses are a cheap and easy means of travelling to school and – in the future – for connecting to new opportunities in training and employment. The service will provide modern, safe, reliable and environmentally friendly transport reducing many unnecessary car journeys each year and I congratulate St Peter's for being so forward thinking in their approach."
In July 2011, Surrey County Council made the decision to withdraw the funding to all schools for coaches. The Green Bus was then recommended to St Peter's.
As previously featured in CBW, the operator's services are planned by working with schools to plot where pupils live and designing bus services which connect their home areas with school.
The Green Bus also offers vehicle safety checks and enhanced CRB checks, along with live vehicle tracking by smartphone or through the firm's technologically-advanced website.
Ian Mack, Managing Director, said: "The Green Bus is all about modal shift: transforming unnecessary car journeys into bus trips. St Peter's is now accessible from almost every part of Surrey and pupils will travel safely in buses which are independently safetychecked, where the drivers go through enhanced CRB vetting and which offer free WiFi on board.
"The network is already successful commercially and we look forward to developing it over the coming years. We see Surrey and south-west London as very fertile ground for future expansion."
Robert Guinea, Headteacher of St. Peter's, said: "Every Green Bus will bring up to 70 students by public transport. This makes great sense for the environment and will go a long way to preventing gridlock on the local roads. I am delighted we are working closely with a company which has a genuine vision for school transport and I hope many other schools follow our example."
Visit: www.thegreenbus.co.uk. Call: 0845 234 2222