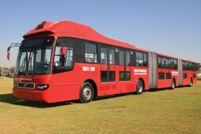 MEXICO Volvo has delivered 14 7300 bi-articulated buses to Mexico City's BRT (Bus Rapid Transit) system Metrobús. The vehicles are expected to transport more than 60,000 passengers a day.
The Mayor of Mexico City, Miguel Angel Mancera, attended the delivery event for the new buses which are to operate on line 1 of Metrobús, the public transport system in Mexico City.
The increasing demand on line 1, which runs along one of the most important corridors in Mexico City, Insurgentes, is the main reason for the new units being integrated into the system. To date, occupancy has been recorded up to 95% on the route.
Guillermo Calderón, General Director of Metrobús, commented: "The 14 additional buses should alleviate overcrowding during the peaks and allow a much improved service to be operated."
Line 1 is now operated by 27 Volvo 7300 bi-articulated buses each measuring 25 metres long with capacity for 240 passengers in each vehicle.