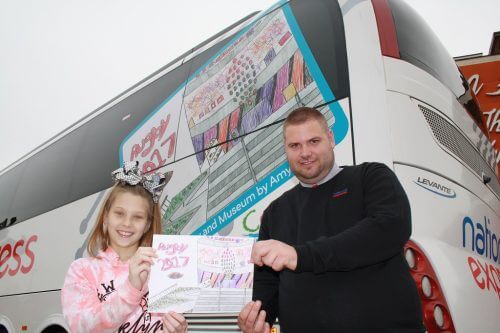 A schoolgirl from Rugby has fought off competition from across the Midlands to see her artwork appear on the side of a National Express coach.
Twelve-year-old Amy Page from Bilton, Rugby, drew her favourite local landmark after her mum was looking for things to do in the summer and spotted the Colour the Coach competition.
Colour the Coach is a nationwide drawing competition, where children aged 5-15 are asked to draw their favourite local landmark.
The winning designs in each region, as chosen by a local artist, are turned into a special one off livery to go on the side of a coach.
Amy decided to draw the Rugby Art Gallery and Museum as it is her favourite landmark in Rugby and she plays the sport of Rugby at school too.
National Express Coach Managing Director, Chris Hardy, said: "I'm delighted to announce Amy as the winner of Colour the Coach 2017 in the Midlands. She's clearly talented and her drawing looks fantastic on the side of our coach.
"We are keen to promote youth talent as part of our Youth Promise so it's fantastic that Amy's work will be on display for all to see as it travels around the region."
West Midlands artist Paul Parkin aka Jinx, whose distinctive portraits painted with a coffee-based paint can be found in his gallery in Birmingham, judged the competition in the Midlands. He said: "Amy's design was highly creative, showed a good eye for detail and captured a famous local landmark really well. Very well done to her!"
Amy, who studies at Rugby Free Secondary School, was shocked and delighted when she found out she had won the competition in the Midlands. She said she plans to buy her 10-year-old sister Imogen a present with the £50 prize money and she also wants a new pencil case.