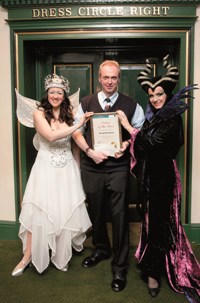 Nottingham City Transport's Driver of the Year, with six other finalists, plus families and guests, were treated to a meal and tickets to the Theatre Royal pantomime, Sleeping Beauty, with NCT's senior management team.
David Townsend, of Lowdham, Notts, won a Seasonal Driver Award to qualify for the title and was presented with his award by the good and evil fairies in the performance.
"We launched our Seasonal Driver Award initiative last year to acknowledge the hard work, professionalism and commitment to the NCT service our 830 drivers show every day," explains NCT marketing manager, Anthony Carver-Smith. "The winner is decided by mystery travellers who measure customer service, driving standards and overall competence. David achieved the highest cumulative score – 89% – on several assessments and was particularly commended for being polite and friendly – thanking all the passengers as they got off, and talking to waiting customers at the bus stop – having an "exceptional manner" and "driving with great care". In addition, David has personally undertaken a number of advanced driving courses and assessments with the Royal Society for Prevention of Accidents (RoSPA), completing his Vocational Passenger Carrying Vehicle licence (PCV), so he really is a very worthy winner."
David receives £1000 and an extra week's holiday as his prize.