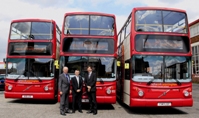 Network Warrington, the trading name of Warrington Borough Transport has taken delivery of three low floor Volvo B7TL double-decker buses to operate on their Hatton and Gorse Covert routes, where school loadings are particularly heavy.
"We took a decision in April 2011 to convert the entire local bus network to low floor entry," explained David Squire, managing director. "However, we then had a requirement to provide additional capacity on some of our peak routes.
"Having looked around at various options we chose the proven Volvo B7TL chassis with Alexander ALX400 body. We acquired the buses from Volvo Bus, and used Volvo Finance as their 1-2-3 deal was particularly attractive".
David added: "At Network Warrington we set a very stringent specification, and CPD who converted the buses as Volvo's partners have done a terrific job. We are very pleased with the result."
The ex-London Volvo B7TLs have all been extensively refurbished, including centre door conversion and DDA entry ramp. The seats have been re-trimmed and the vehicles have also been repainted with LED blinds added.
"Warrington have some extremely busy routes and they needed to make sure they could meet their service demands", explained Volvo Bus regional commercial manager, Arthur Argyle. "We were delighted to meet their requirements with these low floor double deck buses".