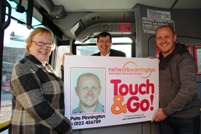 Municipally-owned operator Network Warrington has launched its new range of smartcards called Touch&Go!
The new plastic cards have an in-built chip, meaning that on boarding the bus, customers just touch the target on the ticket machine, which instantly checks validity and then go to their seat.
The new system allows Network Warrington to introduce new products, tailored to specific needs, and the operator also plans to introduce a web top-up facility and direct debit payments in the coming months to make access to tickets easier and more affordable.
David Squire, managing director, said: "We're pleased to be able to launch our new Touch&Go! smartcards, which will replace our current range of saver tickets."
In what it believes is a unique deal in the UK, Network Warrington have teamed up with local radio station Wire FM, whose name and logo appears on the reverse of the cards, promoting their commentary of local Rugby Super League side Warrington Wolves.
Mark Wheaton, sales director at UTV-owned Wire FM, said: "We're pleased two winning brands in Warrington are teaming up for this unique partnership. Wire FM continues to enjoy its best ever audience figures growing more than 50% in the last 12 months and we are proud to support the local community. Teaming up with Network Warrington has allowed us to reach out to the 20,000 Touch&Go customers across the area."
Network Warrington is running a promotion with Wire FM's Home Run show with a daily competition, with the grand final taking place at the on Saturday, February 18.
For more information, visit Network Warrington's dedicated website at www.touchandgo.org.uk