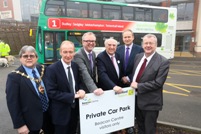 Operator acquires a mixture of ADL and Volvo hybrids complete with next stop announcements
National Express West Midlands (NXWM) has unveiled 20 new hybrid buses, representing a £3.9m investment.
The vehicles – 10 ADL Enviro400Hs and 10 Wrightbodied Volvo B5LHs – were launched at the Beacon Centre for the Blind by MPs Ian Austin and Pat McFadden, Peter Coates, Managing Director of NXWM, and John McNicholas, Chairman of Centro. Significantly, they feature next-stop announcement techology, an invaluable aid to the blind. The new buses, which will operate on the number 1 service between Wolverhampton and Dudley, will also be distinctive in appearance, with a bright green front and falling leaves down their side to represent the environmental benefits they will provide for the area.
NXWM MD Peter Coates said: "These new vehicles will make a big difference to Dudley and Wolverhampton. They will make transport easier for customers with sight and hearing loss as well as reducing the amount of carbon emitted by an impressive 440 tonnes a year. We are really proud of these state of the art vehicles and we hope that the people of Dudley and Wolverhampton will be too."
Asked about the branding, which appears to be far more pleasing on the eye than that hitherto seen on the firm's bus fleet, Jack Kelly, NXWM's Head of External Communications, confirmed to CBW the branding had been designed by Adam Rideout.
All of the latest hybrids work out of Wolverhampton Garage. They replace Dennis Tridents. Jack said the "vast majority" have now arrived.
He added: "The drivers have been given special training, we have brought in drivers from elsewhere who are familiar with the technology to give them a good grounding. It's been a very good programme lead by our Operations Director Simon Mathieson.
"As for the engineering side, we have a lot of expertise within the Group with these vehicles so there have been no problems there. Also, we are hoping these buses will increase patronage and there's really a sense of renewed pride in the route – we've made every effort to get everybody as involved as possible."