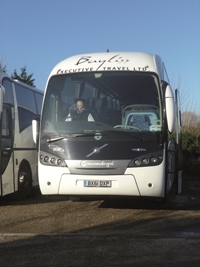 Bayliss Executive Travel has taken delivery of a new 13-metre Volvo B9R Sunsundegui coach.
Five out of Bayliss' six coaches are now Volvos. Alistair Bayliss, company owner, said: "They are good solid, reliable vehicles. "Volvo builds quality vehicles that do exactly what they're designed to do, plus we get the excellent back-up and support from MC Group in Hythe."
The new B9R is fitted with 55 passenger seats, with three point safety belts. It also features a toilet, two TV monitors, servery, CD/DVD player, refrigerator and a safe.
Supplied in dealer white and adorned with the Bayliss Executive Travel logo on the front and sides, the new B9R coach also features a special Visit Malta livery at the rear.
"It's all part of a link-up we've established with the Maltese Government and tourist board," explained Alistair Bayliss. "It will hopefully mean the vehicle is also extremely recognisable when travelling around the country."
Bayliss' new coach will be used across a wide spectrum of work, including some of the firm's cruise contracts, student travel and private hire.
"The versatility of the vehicle was another key factor in our decision," said Alistair Bayliss.
The B9R chassis incorporates the rear-mounted Volvo D9B engine, which is attached to the fully automated Volvo I-Shift 12-speed mechanical gearbox.
"Operators like the B9R because of its reliability, flexibility and adaptability," explained regional coach sales manager, Richard Mann. "Bayliss Executive Travel has been pleased with the performance they've had from their existing Volvo coaches and we're delighted to meet their requirements on this latest purchase."
Visit Bayliss' website at www.baylissexecutivetravel.co.uk