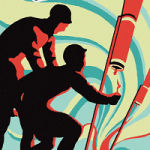 Compton Verney, the art gallery in a renovated 18th-century mansion in Warwickshire, has announced it it is to hold two new exhibitions – one of paintings and drawings by a favourite illustrator, the other a celebration of fireworks.
'Quentin Blake – As Large as Life' brings together more than 60 works by one of Britain's most successful illustrators who is best known for his work in Roald Dahl children's books.
There will also be a specially commissioned family room decorated with examples of Blake's illustrations for Dahl's books and his recent designs for wallpapers.
The other exhibition, 'Remember, remember – A history of fireworks,' will be the first to explore Britain's November 5th celebrations through the history of fire festivals, the 'gunpowder plot' of 1605 and a collection of the advertising materials and packaging of domestic fireworks from the 20th century.
Visitors will also be able to see the extensive collection of old fireworks collected by Maurice Evans, now in his eighties and a firework collector since his early childhood.
Compton Verney has six permanent collections as well as a changing exhibition programme.
The mansion stands in 50 hectares (120 acres) of Grade 2 listed classical parkland, designed by the eminent landscape architect Lancelot 'Capability' Brown.
The two exhibitions run from October 15 to December 11. The house is open Tue–Sun 1100–1700hrs until December 11. Visit www.comptonverney.org.uk