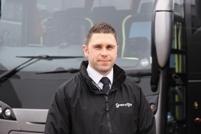 Grey's of Ely has been announced as a winner of a scheme to get small British businesses to increase online presence – The Financial Mail reported.
The coach company won the Google initiative – entitled Getting British Business Online – which aims to increase the number of smaller firms who do business online and in turn boost digital revenues.
Grey's started building a new, revamped site in October 2010 (as featured in CBW978) going fully live in February 2011. The site allows customers to live track booked vehicles, ask for and receive online quotations, and give feedback to the company.
Figures show micro-businesses, those with ten employees or fewer, make an average of just £1,000 a year via the internet, less than 1% of their total revenue. This compares to firms with 11 to 49 staff, who earn on average £175,000 a year in online sales, or 4.6% of overall revenue.
The scheme will launch in Liverpool, chosen because research by Google shows that despite having a thriving business community, Liverpool lags behind rival towns such as London, Manchester, Leeds and Bristol, in its use of the internet in business.
The family firm was set up more than 60 years ago by current owner Richard Grey's grandfather and employs 40 people. It now operates 26 vehicles and clients include local schools and sports clubs, and tourists groups, in particular fromFranceandAmerica.
The company's website is constantly updated with new information and Grey's use Google Adwords to promote themselves both in the UK and globally. As a result, they are gaining more overseas business. The firm also uses Google analytics tools to check what works and what does not.
According to Richard, more than 70% of Grey's business now comes via the internet and from its website.
Richard said: "Having a strong website is a really key way to grow the business and stand out from your competitors."
"The key is to focus on exactly what you are trying to sell or the message you want to put across. The critical information must be on the front page as few people look further than that."
He added: "It is also really important to keep the website updated. If people can see that it is out of date, or looks uncared for, they may easily get the wrong idea about the business."
As part of the scheme, small businesses will have access to three months of free business events, including workshops, online tutorials and one to one advice sessions. The campaign will also unveil the six other businesses chosen as the winners of Google's recent Best of British Web competition, each of whom will provide advice to firms in their sector.
The Getting British Business Online scheme will launch on September 14, with plans to travel to other parts of the UK next year.