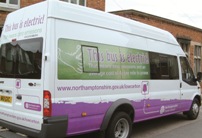 Northamptonshire County Council has invested in an electric minibus for its regular link service which shuttles staff between offices at County Hall and John Dryden House.
The council says replacing its diesel minibus with an electric shuttle will contribute to lowering it's carbon footprint and save the authority thousands of pounds annually. It offers minimal running costs of around £2 a day. The new bus has been funded out of the council's energy and carbon 'invest-to-save' fund, which is comprised of savings made through reducing carbon output and energy bills.
Cllr Ben Smith, council cabinet member for environment, said: "This is an innovative solution which makes sense both environmentally and economically. Increasing fuel bills bring financial pressures and in these tough financial times the electric bus can play a big part in reducing costs."
The new electric bus costs 4.1p per mile to run in fuel, which equates to about £525 per year. Northamptonshire's existing diesel bus, which is leased to the council, costs £50,000 a year, therefore the new electric bus will not only save the authority £30,000 a year but will also be an asset the council owns.
Based on a Ford Transit, the Edison minibus is built by Smiths Electric Vehicles.