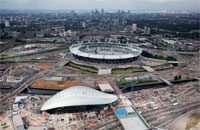 Six in 10 small firms believe the London 2012 Games will not have a positive impact on their business in the long term despite David Cameron saying the UK is "on track" for a lasting legacy, the Federation of Small Businesses said this week.
The FSB's 'Voice of Small Business' Survey Panel shows 62% of small firms believe the Games will have no long-term positive impact on their business, despite promises that the legacy of the London 2012 Games will continue for years. Only 7% of small businesses believe the Games will benefit their business overall, and a quarter (25%) expect a negative impact on their business.
The FSB is concerned that when the bid for the London 2012 Games went through, it was sold on the basis that is would create a long legacy for the country, yet small businesses do not believe that they will benefit from this. The FSB is calling on the government and Olympics Authorities to ensure small firms are aware of how they can reap the benefits of the Games.
"It is worrying that 200 days before the Olympic and Paralympic Games are set to begin, small businesses think it will not benefit their business," said John Walker, FSB national chairman.
"This is even more worrying considering the London 2012 Games was sold on the basis of its legacy. We all know times are tough, but 2012 is a year of big events which small firms should be able to benefit from.
"The government and Olympic Authorities must help show small businesses how they can reap the rewards from one of the biggest sporting and tourism events the country has seen for years."