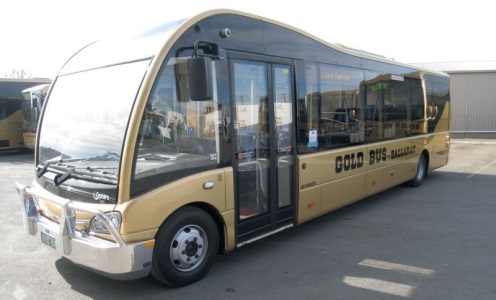 Donric Group has recently taken delivery of two Optare Solo SRs which are being operated by Gold Bus, one of six companies within the group
They're aptly named after the area in which they operate in Ballarat, Victoria known for its gold mining. Donric Group is family-owned and Chief Executive Peter McKenzie and his wife Linda visited Optare at Sherburn in Elmet on a recent trip to the UK. The Donric Group has grown from a fleet of eight in 1980 to in excess of 360 vehicles today.Everything from school and route services to a wide range of charters and extended touring are catered for.
The Solos operate as special education school buses in partnership with the Department for Education in Victoria, serving Ballarat Specialist School. Located not far from the banks of Lake Wendouree, it provides educational programmes for three to 30 year old students with mild, moderate and profound intellectual disabilities associated with physical, social, emotional, behavioural, multiple and sensory impairments.
Peter said: "The application of the low-floor, midsize Solos as a special education school bus, is a new concept in Australia, with the growing demand for special education services and access for multiple wheelchairs. The Solo provides a higher capacity whilst still able to navigate through the urban streets.
"Optare's selection of well known global brands in the Solo's driveline adds to the maintainability of the vehicles and their performance in high temperatures was also another deciding factor. The vehicles have been very well received by both customers and drivers."