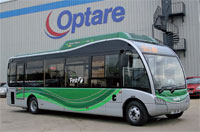 Optare is to end production of the original Solo design and continue with the later developed SR model only.
First introduced 14 years ago, the Solo has sold over 4,000 units including those for export to Europe, North America and elsewhere. The first examples operated in the UK were delivered to Wilts & Dorset – which later became part of Go-Ahead – and remain in service today.
The Solo SR was launched in 2007 as a premium option with a distinctive new exterior appearance. It only sold in very small numbers but its popularity grew and a Optare says a significant proportion of orders now call for the SR design. The new 2012 Solo SR range comprises 7.1m, 7.8m, 8.9m and 9.6m variants, all available in the Slimline (2350mm wide) version. The 8.9m and 9.6m models will also be available in the wider 2500mm body width. All will feature curved side glazing and high specification interiors allowing up to 37 seats.
Optare says it has used this opportunity to redesign some of the bodywork components to take advantage of the benefits achieved on the recently released Tempo SR design which reduce both cost and weight.
Glenn Saint, Optare's chief operating officer, said: "Moving to the single body exterior and interior design will give all operators the benefit of the enhanced features of the Solo SR. The increased volume this creates will allow pricing to remain competitive with other products on the market."
The SR models will be available with either Mercedes-Benz or Cummins drivelines allied to Allison transmissions. The MAN EGR option without requirement for AdBlue has been dropped.