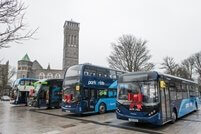 ADL reaps the benefits as a number of Envrio200s, Enviro400s and a batch of Plaxton Elites arrive
The Plymouth area has seen substantial investment in new vehicles from Stagecoach South West.
The operator has seen a number of new vehicles delivered over recent weeks, representing a £5m investment.
This includes a batch of five Euro 6 ADL Enviro400 MMCs which have been diverted from a Manchester order, intended to speed up the process of upgrading Plymouths Park & Ride services and allowing currently loaned vehicles to return to First Kernow.
The vehicles are fitted with high back eco-leather seats in a blue trim and are fitted with stop-start technology. All five are in a two-tone blue livery dedicated to Park & Ride services.
As well as the deckers, Stagecoach has received five 11.9m ADL Enviro200 MMCs, which will also be used on its Park & Ride services. The single-deckers are fitted with the same interior features as Park & Ride Enviro400s and are powered by a larger than standard Cummins ISBe6 engine with Voith transmission.
The original batch of Enviro400 vehicles intended for Plymouth, 16 in total, utilise the standard Stagecoach livery and are fitted with low back Lazzerini 3845 seating in standard moquette as found on the majority of other Stagecoach vehicles in the UK. These vehicles are intended to replace the current S, T, V, X, and 04 registration Tridents operating on routes 1, X1 and 3, though some of the Tridents may be kept for school services.
Lastly, the operator has received a batch of eight tri-axle 15m Volvo B11RTs Plaxton Elite coaches for use on a new express service between Plymouth and Bristol. For a full report on this new service, which launched on February 14, 2016, see p16 of this issue.