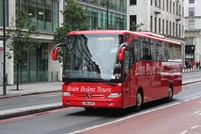 Redwing Coaches will be taking delivery of eight new Euro 6 Mercedes-Benz Tourismo Coaches in March 2015.
The new vehicles will replace the current coaches in Evan Evans Tours branding. They will be given Evan Evans branding and operate on the same contract.
Nigel Taylor, joint Managing Director of Redwing Coaches, told CBW: "90% of our fleet consists of Mercedes-Benz Tourismos. We like the product and are more than happy with the backup service provided.
In a separate development, all four Scania Irizar i6 coaches in the Redwing Coaches fleet have been fully wrapped in a Call of Duty – Advanced Warfare promotion and dispatched to various locations across Europe.
The operator was contacted by a London marketing agency to see if we could fulfill a brief to wrap four 53 seat executive vehicles for a forthcoming promotion for the Xbox video game – Call of Duty – Advanced Warfare.
The operator said: "Of course we said yes and although it's been very involved and sometimes challenging, it's also been huge fun for the team at Redwing. To see everything take shape and then to wave them all off was very satisfying."
The company said it was open to similar projects in the future.