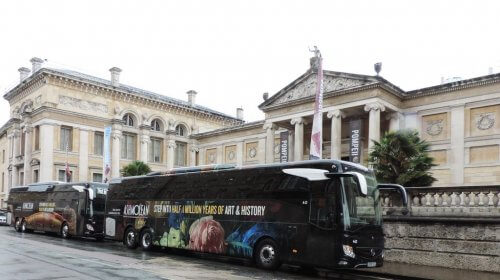 The Oxford Bus Company has revealed its new Ashmolean Museum branded coaches. The two coaches come as part of the operator's £3.5m investment in a range of coaches for its Airline services to Heathrow.
This month a further 11 new Mercedes-Benz Tourismo coaches entered service, including the two Ashmolean Museum branded vehicles.
One of the coaches is wrapped with the museum's Egyptian mummies and the other bus is decorated with Dutch flowers. The buses also celebrate the operator's partnership with Experience Oxfordshire.
Phil Southall, Oxford Bus Company Managing Director, said: "We are proud to be displaying the Ashmolean Museum livery on two of our new coaches, as part of our commitment to helping showcase the wonderful visitor attractions in Oxfordshire.
"The coaches look fantastic and they are now out providing a first-class service to our passengers and helping raise awareness of the great places to visit in Oxford. The new coaches include a lot of the latest technology on the market and make them one of the most modern and luxurious coach services to Heathrow."
Susan McCormack, Director of Public Engagement, Ashmolean Museum, said: "We are enormously grateful to our friends at the Oxford Bus Company for giving us the opportunity to showcase some of our treasures outside the museum. Two coaches from the new fleet will be wrapped in pictures of our Egyptian mummies and a spectacular Dutch still life. We can't wait to see them out on the road, and we hope they brighten up the journeys of passengers and drivers around town."
The coaches are fitted with Euro VI engines. Most journeys between Oxford and Heathrow will operate using the 11 new coaches which will be part of an overall fleet of 16 Airline coaches serving both Heathrow and Gatwick airports.