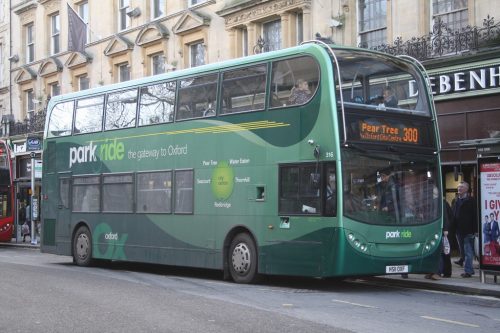 Buses have been allowed to return to Queen Street in Oxford in time for the opening of the city's Westgate Centre, the Oxford Mail reported.
County council leaders had wanted to pedestrianise the street, as an increase in shoppers is predicted once the £440m shopping centre reopens on October 24. Bus operators objected and the matter was referred to the Department for Transport (DfT), which has now advised that, the street should be open to buses in time for the centre to open.
However, Transport Secretary Chris Grayling could still decide that, in the long-term, the street should be closed to buses. He has yet to make a final decision.
The buses return to the street on Sunday, October 22, after being restricted from September 25 for construction work on the centre to continue. However, there will only be 29 per hour compared to the previous 55.
Hugh Jaeger, a spokesman for the Oxford branch of Bus Users UK, said: "Oxford Bus Company and Stagecoach will now have to work together to decide which buses will go through Queen Street again, because 29 buses an hour is a significant reduction on what there was before.
"The number of buses using Queen Street was halved in 2009, and now it is being reduced again, so it's death by salami slicing."
Hugh added that the latest decision was a good opportunity for Oxford Bus Company to restore the X3 from Abingdon to its original route, which visited Oxford railway station.
Phil Southall, Managing Director of Oxford Bus Company and Thames Travel, said: "Having received the welcome news that buses will be permitted to return to Queen Street from Sunday, October 22, we are delighted to be able to advise our customers that, from this date, we will be reinstating several important links, which had been lost during the period that buses were unable to use Queen Street.
"City centre bus stops for each service will be revised too.
"Service X3 will once again link Abingdon to Oxford railway station and service 13 will be returning to connect Marston to the railway station.
"Services 3, 3A, 8, 9, 35 and Thames Travel services X39 and X40 will also make use of Queen Street, to ensure that we give customers on these routes the best possible access to the city centre and new Westgate Centre.
"Park & Ride service 300 will not use Queen Street but will otherwise return to its previous cross-city route, with a through service restored between Redbridge and Pear Tree Park & Rides.
"The Brookes Bus U1 service will also not serve Queen Street but will serve a stop on Castle Street and the existing stop at Turl Street."
Stagecoach in Oxfordshire said its buses which would once again be routed via Queen Street were the 3A for Littlemore and Sandford-on-Thames, the 3 for Rose Hill and the 8 and 9 services for Barton and Risinghurst.