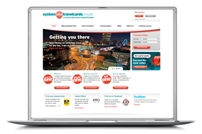 Manchester-based Studio North has designed, built and launched a new website for System One, the client facing brand of Greater Manchester Travelcards Limited (GMTL).
The Studio North team was tasked to create a 'best in sector' website, paying equal attention to customer experience, design (visual & verbal), build (technology) and marketing capability. The overall aim was to meet the demands and expectations of existing and potential users of public transport, to provide flexible purchasing options, with E-sales being the most important, and to attract new customers to the System One brand and product range.
Studio North built System One's original website in 2006. This project saw the agency design and build the entire site, including an SQL e-retail platform which has been future-proofed in anticipation of possible smart ticketing changes in the future.
Nick Wright, director of Studio North, commented; "It's been fantastic to pull the brand's digital offering forward with online purchasing and I'm positive it provides a fantastic user experience. I look forward to seeing the results over coming months"
Allie Johns, marketing consultant for Greater Manchester Travelcards Limited said: "The System One brand is all about making public transport ticketing more accessible and flexible for people across the Greater Manchester region. We see the website as a key enabler of this. The new site is showing positive signs in terms visitor numbers, engagement and conversions to registration and sales.
"All of this certainly bodes well as we go into 2012 with a key objective of continuing to develop our products and presence online.'
The new site is live now and can be viewed at www.systemonetravelcards.co.uk