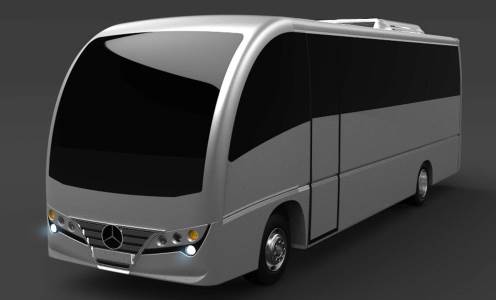 New model will be mounted on Mercedes-Benz Atego, with greater capacity
Alexander Dennis (ADL) has announced that the replacement for its popular Mercedes-Benz Vario-based Cheetah will be mounted on a Mercedes-Benz Atego. While no further details have been released, more seats, more space and a significant increase in luggage capacity are promised. An automated manual gearbox option will be available for the first time. Production is expected to start in the last quarter of this year.
"The new model builds on the outstanding success of Cheetah and owes much to the proven pedigree of what has long been the dominant market leader in this sector," said ADL. "It promises to maintain all the virtues – value, economy and reliability – of its acclaimed predecessor and in addition, will offer even greater levels of capacity and comfort. It also continues the lengthy relationship with Mercedes-Benz, a partnership that has been successful over more than three decades."
Initial reaction is described as "very exciting" from the panel of customers who have been introduced to the new vehicle, according to Director of Business Development, Kevin Wood.
"Cheetah has been a massively successful model for us, regularly accounting for more than half the vehicles sold in the small coach category, so it was always going to be a tough act to follow. We've introduced customers to our design concepts over the past few months and listed to their views and opinions. Our engineering team have also worked closely with Mercedes-Benz, both in the UK and Germany, to fine tine the base platform and we firmly believe that this gives customers exactly what they've asked for."
Customer demand for the final round of Vario-based Cheetahs has been very strong according to Kevin. "Even as popular as Cheetah has been over the years, the last 12 months have seen unprecedented demand and despite securing all remaining chassis available, we sold out with more than six months production still to go," he said. "The new model promises to raise the bar for small coaches and naturally when you come to the end of such a successful product, customers are keen to see how you intend to follow it."