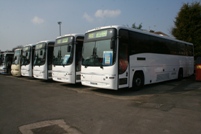 The event will also be the first chance for customers to view the latest generation of Plaxton Cheetah
Heralding the start of a new season, Plaxton Coach Sales is holding its annual Spring open days at the Anston Coach Sales Centre on the weekend of March 24-25. Customers looking to update their fleets will have an opportunity to see the full range of Plaxton coaches available for the new season, as well as the extensive range of used coaches and buses the Anston Centre has always been renowned for.
The event will also be the first chance for customers to view the latest generation of Plaxton Cheetah, the first example of which is due to return to Anston from its extensive test programme specifically for the event.
Anston general manager, Mick McElhone, is confident business is moving forward as the new season approaches, "We've seen a definite upturn in trade over the last few weeks after a slow start to the year. Demand has been across all price brackets from new and late used down to older trade selection vehicles so this gives some encouraging signs indicating customers are now putting fleet investment higher up on their agenda."
LEZ 2012 compliant vehicles are very much top of the list for many operators, particularly those from around 2002 upwards and Plaxton has initiated a programme to upgrade vehicles in this age range. "We've seen a big surge in demand for vehicles able to go to London/ and this can only increase as the season gets underway," Mick explained. "We've upgraded a number of vehicles already, including Volvo, DAF and Mercedes models and we have capacity to carry out the work on other stock vehicles with minimal lead times. We believe this will prove attractive to operators seeking coaches for the season."
Customers looking at the options for funding can talk to experts from Landmark and ING who will be attending.
The annual open days have traditionally been accompanied by some attractive deals and this one is no different, Mick was staying tight lipped on exactly what these will be but the hint is they will be even more attractive than ever, "We've always offered exceptionally special deals at our open days and we've a number of vehicles in mind which will offer very attractive deals"
With stock changing on a daily basis, offers will be based on what's available on the day so the only sure way to grab a bargain is to come along!
Call Plaxton's Anston sales office on 01909 551166. Visit www.plaxtonlimited.co.uk