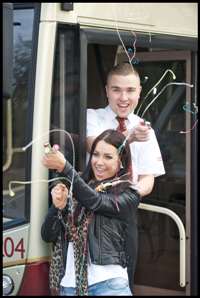 The results from Lothian Buses' independently conducted annual passenger satisfaction survey show improved customer satisfaction levels.
Conducted by transport consultants SKM Colin Buchanan, the results of over 2,000 telephone interviews in autumn 2011 confirm an overall rise in passenger satisfaction to 88% (85% in 2010) and a 7% rise from last year to 93% in the number of respondents who describe bus punctuality as either 'excellent' (53%) or 'very good' (40%).
98% of respondents described driver behaviour and attitude as very good or excellent – an increase of 16%.
Feedback from the survey also highlighted 91% of respondents perceive Lothian services as 'accessible to all'.
Lothian Buses MD Ian Craig, said: "As an award winning, responsible bus operator, we always aim to prioritise the needs of our customers and strive to offer the very best service in public transport.
"Consequently, it is of immense pride and credit to all of the staff at Lothian Buses that the results of the latest independently assessed 2011 Passenger Satisfaction Survey clearly points to ever increasing passenger satisfaction levels in core areas like reliability and punctuality. As a company, we continue to work to satisfy the needs of Lothian Buses passengers with the aim of further improving on customer satisfaction levels in the year ahead."
Gavin Booth, Scottish senior officer for Bus Users UK, said: "I am delighted – and not really surprised – that Lothian Buses has been rated so well by passengers. I travel by Lothian Buses on a regular basis and can echo the findings of the passenger satisfaction survey. I only wish all bus companies could achieve similar results."