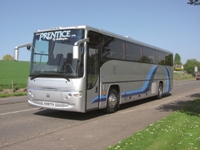 East Lothian-based Prentice has invested £400,000 in three new coaches. A 51-seater exec and a 24-seater have already been acquired, with a 33-seater arriving by the end of September.
Prentice run a range of coaches, ranging from 24 to 70-seat sizes. With regards to the new additions, Prentice's 51-seat executive coaches all use a Volvo B12B chassis with Plaxton Paragon bodies, their 33-seat midi coaches use a Mercedes 816 chassis with Plaxton Cheetah bodies, and their 24-seat mini coaches are Mercedes based conversions. Prentice have enjoyed a successful number of years, with profits growing by an average of 18.5% annually over the past decade. In that time the company's fleet has grown from 9 to 15 vehicles.
The company celebrates its 20th year of operation this month. Co-founder Ross Prentice said "We have worked tirelessly to grow, with the fantastic support of dedicated drivers and the loyalty of clients in a competitive market.
"Green initiatives and further investment are just part of our plans for another successful 20 years. We're looking forward to reviving the role of coach travel in 21st century Scotland."
Prentice claims that it has enjoyed consistent growth, even in the face of "huge challenges to the industry," including difficult winter weather, the recession, and steadily rising fuel prices.
Prentice, who boast John Lewis and PricewaterhouseCoopers as long-standing customers also provide coach services to Loretto, Mary Erskine and Stewart Melville schools, and are looking to expand their education transport operations.